Finding a quick and efficient way to get around is easy with scooters. Do not waste your time in traffic on your way to work or running errands in town. Nothing can be more efficient than a scooter. Renting a scooter in Nice, Antibes or Cannes with Booking Bikes is the best way to get around.
Booking Bikes, the specialist in two-wheeled vehicle rental, is an established business. Scooter rental services in the Côte d'Azur area are available in Nice, Cannes, Villeneuve Loubet et Antibes, France. To satisfy all our customer needs, our agencies offer rental plans that are suitable for any situation. Therefore, you can rent a scooter for a whole day, several days, or even the whole year.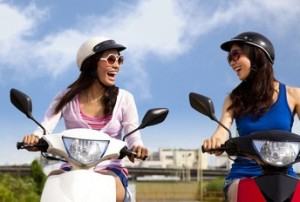 To meet our customers expectations, Holidays Bikes provides a whole range of scooter models. In order to ease our rental process, bike lovers can access our brand-name scooter fleet from 26€ a day. We offer extremely well-maintained scooters. This will guarantee performance, safety and will take you everywhere in style.
Our scooter rental in Nice, Cannes and Antibes offers scooters from 50cc to 500cc, with a huge selection of brands. Prices depend on vehicle capacity as well as the rental duration.
You can opt for a long-term rental or a short one if you need to get across town quickly. Scooter rental is open to anyone that has the requirements to drive this type of vehicle. A car driving license, in most cases, allows you to rent a three-wheel bike (trikes) or a two-wheel model, up to 125cc. Above 125cc, a motorbike license will be required.
The rental process is really easy. Whatever the model, a driving license, an ID, as well as a rental deposit is all that is necessary. Booking Bikes is the perfect partner for an affordable scooter rental. Our service is the inexpensive way to get around, whether it is for a quick ride around town or a long scenic drive. Booking Bikes provides a tailored 2 wheel rental service to ease your way around the Côte d'Azur, France.
Temoinages de clients
Motorbike Rentals
4.9 / 5 sur 10 avis