Since 1995 on the French Riviera, Booking Bikes is pleased to welcome you in one of its 5 rental agencies, located in Nice (Nice Gare, opposite the railway station or Nice Promenade des Anglais), Villeneuve Loubet, Antibes / Juan les Pins and Cannes.
  BMW – DUCATI – SUZUKI – HARLEY DAVIDSON – HONDA – YAMAHA – PIAGGIO 

If you want to rent a bike, rent a scooter, or rent a motorbike, for a day or for several days, our team can offer  you a wide choice of two wheels of the latest model.



Everything is included in our prices: helmets, anti-theft device, unlimited mileage, gloves  and insurance.

5 BRANCHES ON THE FRENCH RIVIERA :
Cannes – Antibes – Villeneuve-Loubet – Nice Gare – Nice Promenade
Booking Bikes offers bicycles, scooters and motorbikes for rent. Rent for a day, for the whole week or for long term. Our 5 branches offer you a complete range of 2 wheel vehicles.
Are you spending your holidays on the French Riviera and looking for an inexpensive and fun means of transport?
You can go to one of the Booking Bikes branches to rent a scooter in Nice, Cannes, VIlleneuve Loubet or Antibes. Small as well as big scooters are available: from 50 to 600cm3.
Booking Bikes also offers bikes and motorbikes for rent in Cannes and its surroundings. Rent a motorcycle Ducati, Harley Davidson or Honda for a day, a weekend or a whole week depending on the length of your stay.
Have a look at all our vehicles as well as our rental rates by browsing our website!
Looking to rent a motorcycle for a short stay in Monaco? Wondering where to rent a bike in Nice or where to rent a bike in Monaco or where to find a Yamaha X-max 125cc Scooter for rent in Antibes ?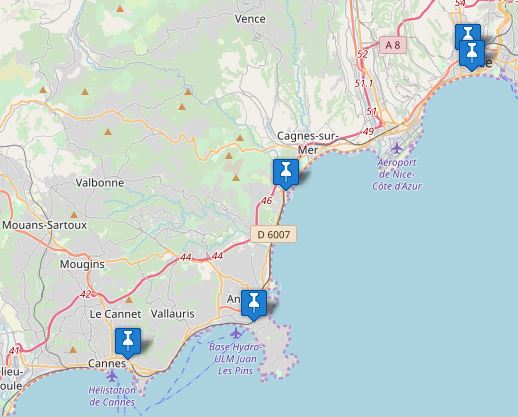 On a d'abord loué un scooter pour visiter l'arrière pays, itinéraire proposé par Boris, le gérant, avec pause déjeuner au logis lou jas, un régal. On a tellement apprécié l'accueil,... read more les conseils qu'on y est retourné pour louer des vélos électriques, idem sur les conseils de Boris on a fait Juan /st Jean cap ferrat dans la journée soit environ 80 km, on s'est régalés. Merci Boris, meilleurs souvenirs !

virginiedF8228QO


6/26/2020

je suis venue pour louer une moto (Ducati Monster) pour le weekend arrivé a la boutique super accueille pour la qualité et l'entretien des motos neuves le tarif et... read more vraiment sympathique. la réputation de cette agence de location de moto a Nice est parfaitement juste...Plus




5/21/2018

Nous avons loué un scooter pendant 24h et sommes allée à Monaco puis à St-Paul-de-Vence c'était génial!!! Très bonne adresse!!!

Marie H


6/27/2018

Top, correcte et acceuil professionele selon les demandes. Parking très proche et ne pas Cher. Le scooter ętait en bonne etat avec des explicatons correctes.




8/07/2018

Le meilleur magasin de location de la région. Suite a plusieurs locations de vélos et motos dans différends magasin, j'ai découvert l'agence de Marina Baie des Anges a Villeneuve Loubet.... read more Tout a été parfait, le matériel a dispo est dernier cri, que ce soit vélo...Plus

sporbak


8/23/2017

Pascal nous a loué une smart pour circuler sur la cote, le vehicule etait parfait et neuf. Pascal est d'une gentilesse et disponible je recommande

Ornella Z


7/22/2018

Réservé le samedi apm par tel pour récupérer un vélo de route à ma taille le lendemain soir. J'ai récupéré comme convenu le vélo le dimanche soir après les réglages... read more sur place? J'ai pu partir de bonne heure le lendemain sur les routes de l'arrière...Plus

VincentJ2502


7/27/2019
Everything is included in our prices: helmets, anti-theft device, unlimited mileage, gloves and insurance.