Since 1995 on the French Riviera, Booking Bikes is pleased to welcome you in one of its 5 rental agencies, located in Nice (Nice Gare, opposite the railway station or Nice Promenade des Anglais), Villeneuve Loubet, Antibes / Juan les Pins and Cannes.
  BMW – DUCATI – SUZUKI – HARLEY DAVIDSON – HONDA – YAMAHA – PIAGGIO 

If you want to rent a bike, rent a scooter, or rent a motorbike, for a day or for several days, our team can offer  you a wide choice of two wheels of the latest model.



Everything is included in our prices: helmets, anti-theft device, unlimited mileage, gloves  and insurance.

5 BRANCHES ON THE FRENCH RIVIERA :
Cannes – Antibes – Villeneuve-Loubet – Nice Gare – Nice Promenade
Booking Bikes offers bicycles, scooters and motorbikes for rent. Rent for a day, for the whole week or for long term. Our 5 branches offer you a complete range of 2 wheel vehicles.
Are you spending your holidays on the French Riviera and looking for an inexpensive and fun means of transport?
You can go to one of the Booking Bikes branches to rent a scooter in Nice, Cannes, VIlleneuve Loubet or Antibes. Small as well as big scooters are available: from 50 to 600cm3.
Booking Bikes also offers bikes and motorbikes for rent in Cannes and its surroundings. Rent a motorcycle Ducati, Harley Davidson or Honda for a day, a weekend or a whole week depending on the length of your stay.
Have a look at all our vehicles as well as our rental rates by browsing our website!
Looking to rent a motorcycle for a short stay in Monaco? Wondering where to rent a bike in Nice or where to rent a bike in Monaco or where to find a Yamaha X-max 125cc Scooter for rent in Antibes ?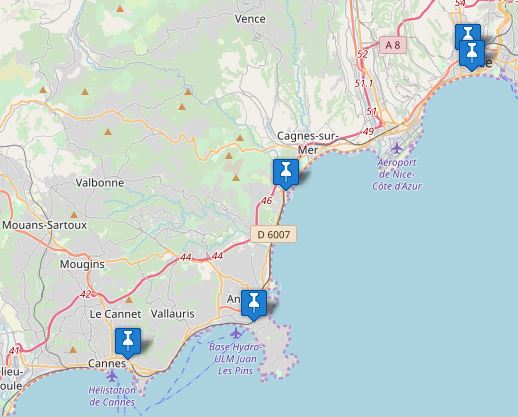 Quel service ! Très très bon accueil et moto presque neuve en très bon état donc pour ce périple de 3 jours en Honda Africa Twin dernier modèle full option... read more pour faire les Georges du Verdon à un tarif très compétitif !
Adresse incontournable pour louer votre moto sur Nice
Merci et à très bientôt

Doncalou


9/25/2019

Que dire la première fois était parfaite c'est donc normal de revenir mais vous pensez être sur de l'accueil et bien non c'était encore une fois au delà sde nos... read more espérances !! Si vous voulez être sur d'être bien accueilli retournez y vous serez étonné...Plus




8/19/2018

Quel plaisir dans une région fortement touristique d'être considéré comme un vrai client. Gentillesse , service et qualité de la prestation au Rdv Tarif abordable, véhicule et équipements en parfait... read more état. Excellent contact avec la personne sur place. Un vrai pro qui a tout compris...Plus

judofa


8/27/2017

Pascal m'a offert un service hors pair pour louer une petite moto en plein mois d efévrier, pour un weekend complet. Très flexible, serviable, je recommande sans hésitation. Félix... read more

Félix G


2/15/2018

Très bien reçus, de bons conseils d'utilisation et des vélos en très bon état, parfaits pour notre petit tour ! Que demander de plus ?! Une bonne adresse assurément !... read more

Jérôme B


6/20/2018

Super accueil . Professionnel aimable dynamique qui sait vous conseiller et vous proposer le matériel adéquat. Très bon contact avec les enfants. Je recommande.

Flochar


8/30/2018

Nous avions reserve 2 vélos (et un siege bébé) par internet. A notre arrivée, nous avons été très bien reçu. En plus de l'accueil chaleureux, notre interlocuteur nous a donné... read more qq infos sur les ballades aux alentours. Les vélos étaient comme neuf et parfaitement adaptés...Plus

philzeram


2/12/2018

Centre de location au top , loueurs très arrangeant , motos très bien entretenues , propres ! C'etait Notre première location , nous repasserons par cette agence sans hésiter !... read more (Nine T bmw superbe machine pour balader à 2 )

Luc P


5/13/2018
Everything is included in our prices: helmets, anti-theft device, unlimited mileage, gloves and insurance.